Transform our planet into shared sustainable prosperity through capital markets.
We


We are in this together: employees, shareholders, investors, suppliers, customers, communities.

Community
Building community creates long-term reservoirs of value far beyond our own balance sheet.

Do the Right Thing
Business thrives on trust. Trust comes from doing the right thing, especially when it is hard.

Innovation
Continuous innovation is the necessary response to dynamic and changing social and environmental systems.

Sustainability at our Core
Sustainability drives every aspect of our business: our economic value, portfolio advantage, outperformance, and intentional positive impact on our environment and community.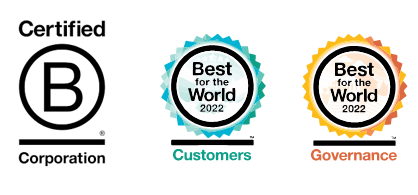 Equilibrium is a Benefit Corporation and a Certified B Corp.
To be a Certified B Corp, a company must score a minimum of 80 out of 200 points on B Lab's Impact Assessment. The score from our most recent assessment was 156, which qualified us in the top 10% of over 7,000 B Corps worldwide, earning us Best for the World recognition.
Our status as a benefit company imposes duties on our board and our management to consider particular interests as we make our decisions. The Oregon Benefit Company Act describes these interests in ORS 60.760 (1).
Read our 2023 Benefit Corporation Report.